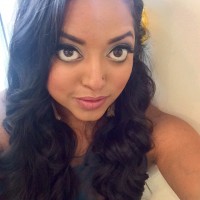 25 Things You Don't Know About Me
1. Gandhi is my Great-Grandfather… well, actually great-great-grandfather. If you google his family tree, you'll find me under his first son's branch (Harilal). http://www.gandhi-manibhavan.org/gandhicomesalive/comesalive_familytree_gandhi.htm
2. I LOVE my job. I'm thankful every day that I wake up happy to go to work.
3. I've gone skydiving, swimming with sharks, zip-lining through the Sierra Madres, left Egypt 2 days before the Arab Spring, and still find the most terrifying thing to be the 5 minutes of stand-up comedy I was forced to do for work. NEVER. AGAIN.
4. I'm really short, with freakishly long arms.
5. I have an unhealthy obsession with Q-Tips and dental floss.
6. I make jewelry. I love seeing projects through from start to finish.
7. Sometimes, I sing so loudly in the shower that it makes me light headed and I have to sit down.
8. In college, my apartment building was burned down by a neighbor trying to cover up the murder of another neighbor.
9. I totally believe in ghosts and aliens, and nobody will ever be able to talk me out of that.
10. I never kill bugs. I catch them and take them outside… Some have accidentally lost limbs in the process… They may have been better off dead.
11. I was robbed by a monkey in India. He stole an entire bag of souvenirs and the locals actually got it all back.
12. My older sister is my best friend, and I'm pretty sure, the greatest human on the planet.
13. I don't argue. I google. With the advent of smart phones, I feel there is no need to have any unanswered questions… (minus the meaning of life, is there God, etc.)
14. I can only eat at a table – never in my car, or walking, or in bed. Nope.
15. I often wonder if human beings are meant to be with just one person forever. My boyfriend doesn't appreciate this line of thought.
16. I think that people should have to pass extensive testing in order to have children, and if they fail, they get sterilized. Haha Juuuust kidding… or am I? I'm not kidding.
17. My ultimate goal is to become a voiceover for Disney movies. I do fairly decent impressions. My Nancy Grace is off the chain.
18. I'm a pop culture junkie – from sports, to music, to art, to politics, to TV and movies, I love it all.
19. My guilty pleasures include game shows, cartoons, Shark Tank, and Tyler Perry movies. Don't judge.
20. I'd like to visit every country on the planet – where human rights are not threatened.
21. I am very honest – sometimes a little too honest. Don't ask me if you look fat in that outfit.
22. My first love was killed in a boating accident while we were dating, and I miss him every day. I also site this as the reason why I am a relationship weirdo.
23. I never knew how ridiculous my laugh was until I started working in radio. Thankfully, it tends to make others laugh as well. Or at least that's what I keep telling myself.
24. People are always stunned to find out my age because I look like a little kid. I used to hate it. Now I'm starting to appreciate it.
25. I have a super-creepy crush on Mark Wahlberg and The Rock….suuuuuper creepy.
Share and Enjoy